Introducing Belotero
Try your first syringe for $575 (reg $650) + receive an additional $50 rebate code.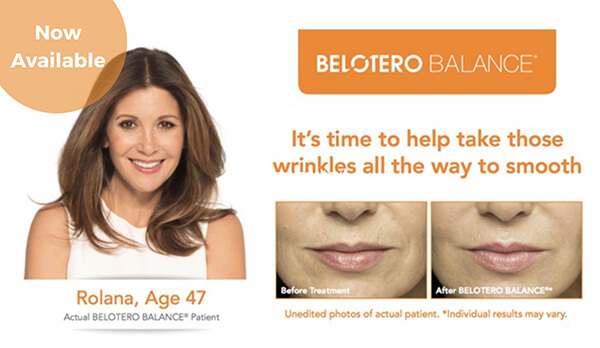 BELOTERO BALANCE is a hyaluronic acid injectable filler designed to integrate into facial skin tissue. The unique manufacturing process for BELOTERO BALANCE yields a soft and cohesive gel that, once injected, instantly fills the skin to help smooth moderate-to-severe etched-in lines and wrinkles. While the product is versatile enough to handle moderate wrinkles such as nasolabial folds (smile lines around the mouth), it may be an ideal option for treating delicate areas such as etched-in smile lines and vertical lip lines (thin lines that appear above and around the lips).
Book Now
Happy 5 Year Work Anniversary to Yvonne!
Yvonne is celebrating 5 years as part of the Skin Revival Family!! As a thank you to all of you who make what we do so enjoyable she is sharing a 15% discount on her two favourite products. We asked for one, but she just couldn't decide which she liked best.

1) Radiance Serum – Regular $143, Now $120
This hydroquinone-free, pharmaceutical grade serum is an anti-aging and skin brightening sērum for all skin types. It's uniquely formulated to reduce the appearance of age spots, smooth fine lines and wrinkles, and improve skin tone. 

Product contains: L-Ascorbic Acid USP (pharmaceutical grade Vitamin C) | Arbutin | Resorcinol
This formula gives your skin the power it needs to revitalize itself.
Benefits
– Perfect for anyone seeking a non-Hydroquinone serum for the improvement in the appearance of aging skin and age spots
– May be used long-term as maintenance
– Ideal for all skin types
– Recommended to help maintain results from a pigmentation protocol such as a skin care regime with Hydroquinone or following lasers or chemical peels
– Patented, stable formulation contains the highest grade Vitamin C available, L-Ascorbic Acid USP (pharmaceutical grade Vitamin C) for maximum efficacy and absorption
– Lightweight and fast absorbing
– Reduces the appearance of aging and age spots while sloughing off dead skin cells
– Oil-free, paraben-free, hypoallergenic and recommended by physicians
2) Exfoliant Forte – Regular $97,  Now $82
Formulated with Glycolic and Lactic Acid this enhanced pharmaceutical grade exfoliating lotion helps improve skin texture, tone and smoothness by exfoliating dead surface skin cells, revealing healthy, brighter, younger-looking skin.
Product contains: 7% Glycolic Acid | 3% Lactic Acid
This formula sloughs off dead skin cells.
Benefits
– Glycolic and Lactic Acid help exfoliate dead skin cells
– Helps brighten skin tone and smooth skin texture
– Especially formulated for oily skin
– Fragrance-free and recommended by physicians
– Lightweight and fast-absorbing
Book Your Skin Deep Consultation Now FREE – Tuesday to Thursday
And get a complimentary upgrade up to $20 off the recommended facial treatment.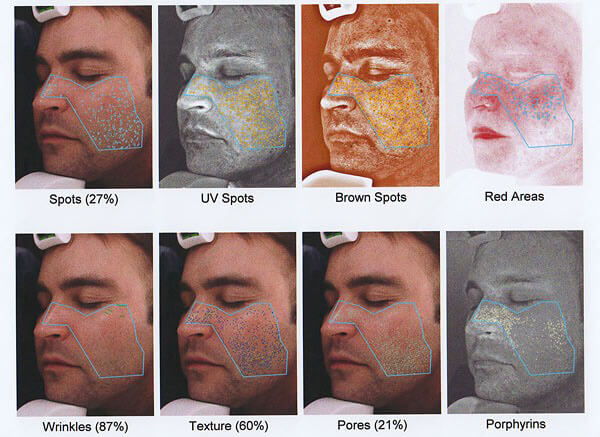 Book Now
NEW Bladeless Dermaplaning with DMK: $100 (reg. $125)
DMK's ALKALINE WASH TREATMENT is an unusual and exclusive method of resolving a wide variety of skin conditions, delivering excellent results in rapid time. It can be used to treat acne, rosacea, unwanted body hair, hyper pigmentation and much more. The possibilities are endless for this amazing and unique skin revision method.
This unique formula does not discriminate as to what kind of dead protein is dissolved so it will dissolve hair as well. This makes it very effective for the removal of unwanted hair on the body or face. This method is also highly effective for the treatment of dark spot pigmentation problems.
Book Now
DMK Express Facial: $120 (reg. $150) (45 min)
This facial combines diamond microdermabrasion with DMK's advanced Quick peel for smooth, radiant skin and LED light therapy.
Book Now
DMK Signature Enzyme Facial $135.20 (reg. $169) (75 min)
DMK Enzyme Treatment helps restore skin to its peak condition. DMK is the only company in the world to utilize the beneficial effects of transfer-messenger enzymes. Enzymes are living substances that regulate health and work with certain minerals in the body to form a natural system of antioxidants that fight corrosive free radicals. Properly formulated, they can remove dead protein, toxins, and other effluvia from the epidermis using a process called 'reverse osmosis'. Where some cosmetic facial treatments may only act on the surface of the skin, DMK Enzyme Treatments work with the skin. The enzymes aim to strengthen the structural integrity of the skin to create a healthy environment for cells to live and thrive in.
Book Now
DMK Advanced Age-Management: $160 (reg. $200) (90min)
Reverse the clock while you relax. This facial treatment is like no other. DMK's MUSCLE BANDING Treatment is an age management treatment designed to fight against the decline that causes ageing. This treatment is suitable for both men and women who want a highly effective age management treatment that will prevent the signs of ageing from manifesting rapidly.
The term "banding" refers to the technique used during the application of the DMK Enzyme Masque which is designed to act directly upon the muscles of the face and neck. The treatment instantly lifts and firms the skin and helps to restore optimal skin functioning.
This is also an excellent preventative treatment, acting in advance to block the onset of ageing. Ideal for those who are at an age (thirties to forties) where the signs of ageing are just beginning to show.
Book Now
TriLipo – Areas starting at as low as $99 for a 30 min session (reg. $150)
Works wonders to help smooth, firm and tightening the skin. TriLipo™ is an advanced medical device that treats all four layers of the skin for anti-aging and body contouring results.
TriLipo™ Technology combines two effective technologies (TriLipo Radiofrequency and TriLipo Dynamic Muscle Activation) – TriLipo Radiofrequency deep volumetric heating works simultaneously with internal muscle contraction to yield maximum fat removal through fat destruction, increased fat metabolism, as well as skin tightening.
Book Now
Call Now to Purchase!
613-706-4080