FlexSure- Revolutionary Body Contouring
FlexSure:
FlexSure™, is the first wrappable radio frequency device designed to curve and conform to your body. This treatment is used to tighten, firm and contour your body.
With Flex-heating deep tissue technology, FlexSure effectively targets hard-to-treat places, including underarms, inner and outer thighs, the abdomen and buttocks.
Pricing starting at $500 per zone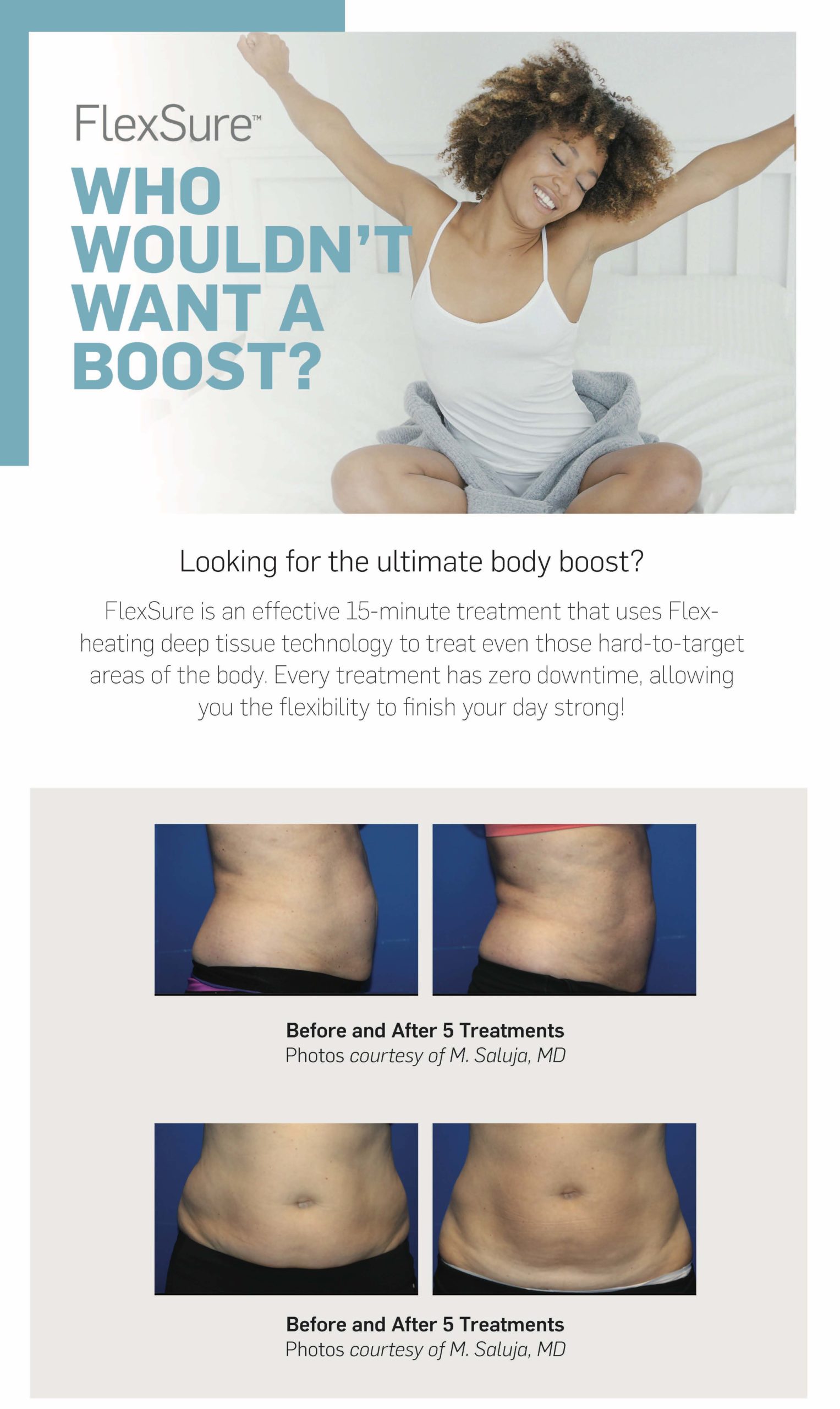 Get Your FlexSure Consultation Today!
What is FlexSure?
FlexSure is a radiofrequency body treatment that provides deep, even tissue heating. The  peel & stick applicator curves and conforms to your body to reach those hard-to-treat areas. Common treatment areas include abdomen,  love handles, arms, thighs, and knees, and have  been described as a gentle hot stone massage.
Who is the best candidate for TempSure Firm?
The FlexSure applicator can be used on any skin type, any time of year, with no BMI restrictions. FlexSure has multiple applicator sizes that allow for non-invasive and customized treatments. Since FlexSure requires no downtime, you can return to your daily activities immediately.
Is it painful?
Each 15-minute treatment delivers a light warming sensation that's both gentle and soothing. Comfortable and convenient, this relaxing treatment requires zero downtime.
How many session of TempSure Firm are generally required?
On average patients require only 3-5 sessions, every 2 weeks, for maximum benefits, and then can simply go on a maintenance plan to sustain their results.
TempSure Firm is...
Super fast , precise and even heating of the skin
Very comfortable and gentle treatment
Treatments are SAFE for ANY skin type
Treatments are SAFE ALL year round
Absolutely no downtime