SculpSure vs CoolSculpting: Which is Better for Body Contouring?
We all want to look and feel our best day in and day out. We eat right, get our daily physical activity in and get enough sleep. But still, there's those areas that we just can't seem to get under control. Stubborn fat deposits that just won't go away.
There are several medical methods out there to help with this, and the two most popular non-invasive methods on the market today are SculpSure and CoolSculpting. SculpSure uses a laser application that heats fat cells to the point where they are destroyed. CoolSculpting uses freezing to destroy the same fat cells.
Since its approval in late 2015, SculpSure has rapidly grown in popularity and is now one of the most requested fat loss treatments.
SculpSure continues to rise in popularity and is now bypassing CoolSculpting in many clinics and medical spas despite being a fairly-new product.
Benefits of SculpSure:
No downtime

Visible results

No needles or surgery

Affordable package pricing 

25 minutes total treatment time per area

A customized treatment with multiple applicator arrangement possibilities

Up to 4 areas per treatment (each "area" is about the size of an iPhone 5)

Laser creates soft edges and a more contoured affect
Benefits of CoolSculpting:
Approved for use on the face and chin

Visible results

No needles or surgery

Results shown after six weeks of treatment

Reduce unwanted fat in areas treated

Affordable packaging pricing
*results are based on average use and post-treatment follow up
Here's why SculpSure is being chosen over CoolSculpting in many clinics and medical spas:

1) Duration
SculpSure takes 60% less time than CoolSculpting: 25 minutes to 60 minutes, to be exact. In our busy day-to-day lives, 25 minutes vs 60 minutes is a big difference.
SculpSure uses multiple applicators that can treat multiple areas in one session unlike CoolSculpting which uses only one applicator so each area must be treated separately.
SculpSure's thermal technology targets fat cells and damages them through a process called thermolipolysis, prompting your body to pass these cells through natural metabolism cycles. Clients have noticed fat starting to diminish after around 4-6 weeks, and even more between 8-12 weeks.
The Bottom Line: SculpSure gives you the same results in a quarter of the time.
2) Pain and Discomfort
CoolSculpting works by suctioning fat deposits between two cooling plates and essentially numbing and freezing the fat cells through a process called cryolipolysis. The frozen cells are no longer viable and die off. This also causes pain and discomfort.
The applicator is placed on the treatment area and the tissue is pulled between the two plates. Many patients experience pain during this treatment due to the intensity of the pulling and suction. The suction process can also cause nerve damage, (the applicators don't just suction fat tissue) numbness that can last weeks, bruising, and significant swelling.
SculpSure, on the other hand, uses applicators that sit on top of the skin and use gentle heat to target the affected area. Cooling plates are placed on the skin so that you don't feel the full effect and your skin remains at a comfortable temperature. There is no suction, and rarely bruising. You may experience slight discomfort during treatment but there is very little swelling or redness compared to CoolSculpting.
The process of CoolSculpting has been known to create a slight border between the treated and untreated skin due to how localized the treatment is. As laser radiates out past the border of the applicators, SculpSure shows a more gradual contoured effect between treated and untreated areas.
The Bottom Line: CoolSculpting patients often experience pain during treatments and side effects such as swelling and sharp pains for weeks after. SculpSure patients report minimal discomfort and less swelling.
See the difference 25 minutes can make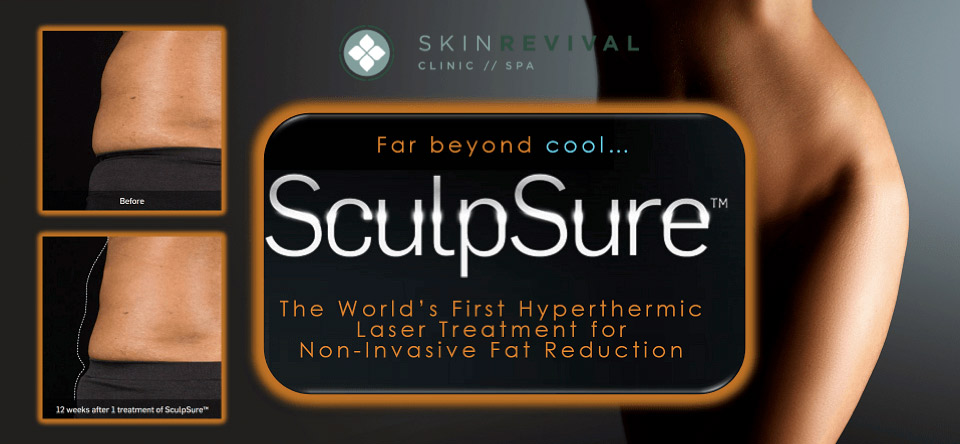 3) Down Time
With CoolSculpting a deep massage and kneading of the area must be administered before the patient can leave. The massage can be highly uncomfortable and often painful. After treatment with CoolSculpting the skin is hard and cold to the touch and the freezing must be worked out. This can also cause deep discomfort for days or even weeks after treatment with many patients complaining of sharp pains and severe swelling in the treated area.
With SculpSure there is no downtime. You can return to your full daily activity immediately after treatment; you can even hit the gym if you want! You will not need to be massaged and it is unlikely that you will experience swelling on the same level as CoolSculpting. Some patients report slight muscles soreness, like they had just done an intense ab workout, but not pain.
The Bottom Line: SculpSure comes with zero downtime, little-to-no discomfort, and minimal swelling, whereas CoolSculpting requires post-treatment work and massaging.
4) Shelving
Because of the suction applicator with CoolSculpting, some patients see a sharp demarcation from the treated and untreated areas. This leaves an area that many people say looks like a shark took a bit out of their tissue.
Sculpsure uses an applicator head that sits on top of the skin and does not use suction. The heat from the laser spreads out beyond the applicator head to allow for better blending between treated and nontreated areas.
The Bottom Line: CoolSculpting can potentially leave demarcations on the skin; SculpSure offers a more even treatment, leaving little to no difference between treated and nontreated areas.
We offer FREE, no-commitment consultations. Call us today!
Both treatments show dramatic reduction in localized fat, but companies are always looking to perfect results. As Canada's newest most innovative technology SculpSure is the next generation of fat reduction.
At Skin Revival Clinic and Spa, we believe that everyone deserves to look and feel their best. SculpSure can do just that. It's an easy and non-invasive treatment that can help you reduce stubborn fat areas that just won't respond to diet and exercise. We're proud to be the only medical spa in Ottawa that currently offers the treatment.
Just 25 minutes can make all the difference. Call us today for a FREE, no-commitment consultation and see how this simple treatment can work for you!