| | |
| --- | --- |
| Dermal filler | Starting at $650 |
| Latisse | $220 for 5ml |
| Revival Lift | $1780 |
| Brow Lift | $300 |
| Consult fee | $50 (Will be applied to treatment) |
Dermal Fillers in Ottawa
As we age, our skin loses volume, hydration and elasticity which all promote a youthful appearance. By replacing lost volume with the help of dermal fillers, like our best-selling Juvederm and Restylane, we are able to provide a natural age reversal.
Injectable dermal fillers give back volume and create contours on the face where needed, in order to rebuild what has been lost with age. At Skin Revival we have tested many of the dermal fillers available on the market, such as Juvederm, Teosyal, Belotero, Restylane and Emervel, in order to bring our guests the best possible outcome, and the best and longest-lasting results.
How Do Dermal Fillers Work?
Dermal fillers or facial fillers like Juvederm and Restylane are temporary, non-surgical products used for the purpose of restoring volume and treating lines. At Skin Revival our experienced technicians can redefine facial contours and restore volume loss in a skillful non-invasive procedure.
Dermal fillers are made up of hyaluronic acid (HA), a safe and naturally-occurring sugar created by our bodies. Hyaluronic acid allows the body's cells to hold one thousand times their weight in water, therefore naturally creating volume and a look of "fullness". Injectable fillers with HA metabolize over time, generally six to 18 months.
Dermal fillers such as Restylane and Juvederm contain lidocaine, a freezing agent that provides additional comfort during the procedure. The results from dermal fillers are immediately visible, providing instant gratification. Some mild to moderate swelling and/or bruising can occur, usually subsiding in as little as 7 to 10 days. Most guests resume normal activity after the treatment. However, it is recommended that no other facial procedure be performed within a two-week period before and after receiving any injectable.
Juvederm vs. Botox
Juvederm and Restylane fillers differ from Botox in a number of ways. Botox uses botulinum to block neurotransmitters to your muscles that tell them to contract or release, thereby smoothing and preventing wrinkles caused by muscle contractions along the forehead, crow's feet, and nasolabial lines. Botox does NOT treat wrinkles caused by sagging or UV damage.
Juvederm and other dermal fillers are different. These dermal fillers work by plumping surface wrinkles, and are recommended for UV damaged skin as well as sagging along the jawline. Juvederm and Restylane use injectables with HA that retain water and "plump" your skin.
We also offer chemical peels and micropeels to treat surface and deep wrinkles caused by sagging and UV damage.
Revival Lift - $1780
Works to revive your skin by lifting and contouring the face, softening lines and replenishing areas of lost volume for a refreshed appearance.
Includes 40 units of Dysport with 2 syringes of Restylane.
Read more about the results you can get with Restylane!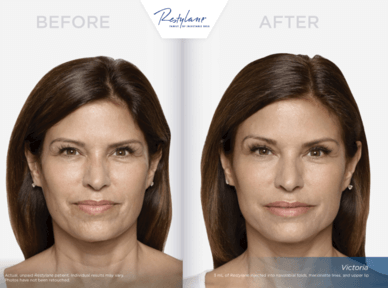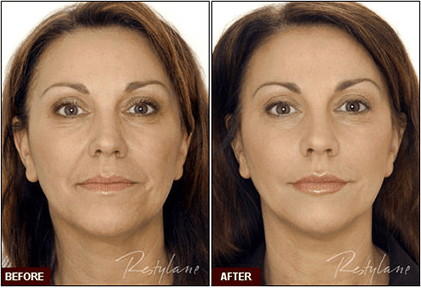 NEW Brow Lift – $300
Results lasting 6-9 months with a small touch-up needed at 3-4 months.